Scoop
Music Scoop
Nollywood Scoop
Music Scoop
BN TV Music Scoop
Events Scoop
Scoop Sweet Spot
BN TV Music Scoop
Music Scoop Style
Music Scoop
Published
on
By
Blogger Linda Ikeji is taking her business to the next level.
A couple of days ago news surfaced that she was remodeling her new office space with plans to expand from an online blog to Linda Ikeji Studios, Linda Ikeji TV and Linda Ikeji Radio.
The celeb blogger has confirmed the news and also shared a couple of sneak peek photos of what her new office looks like.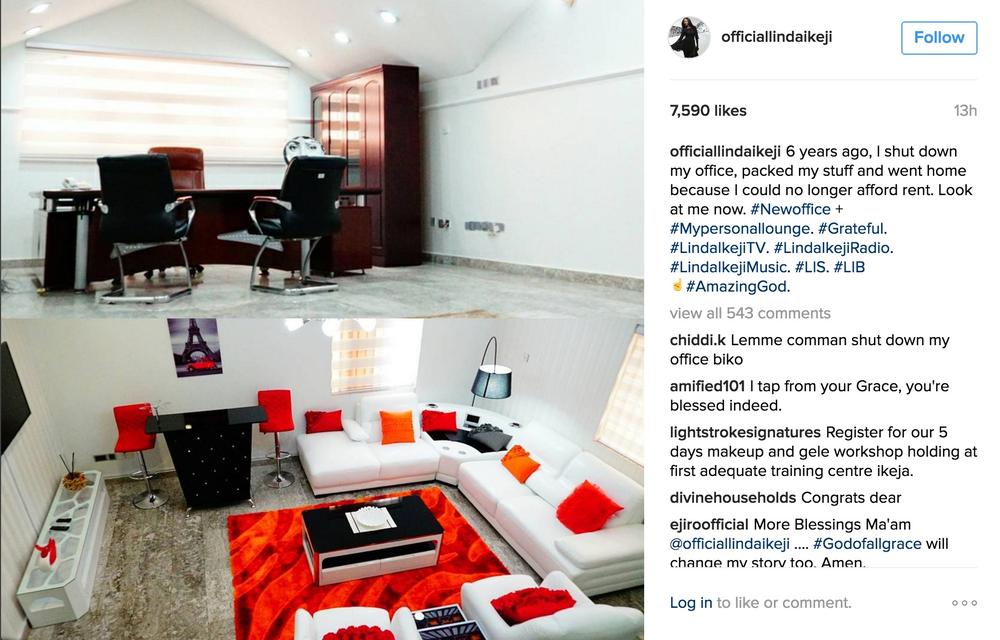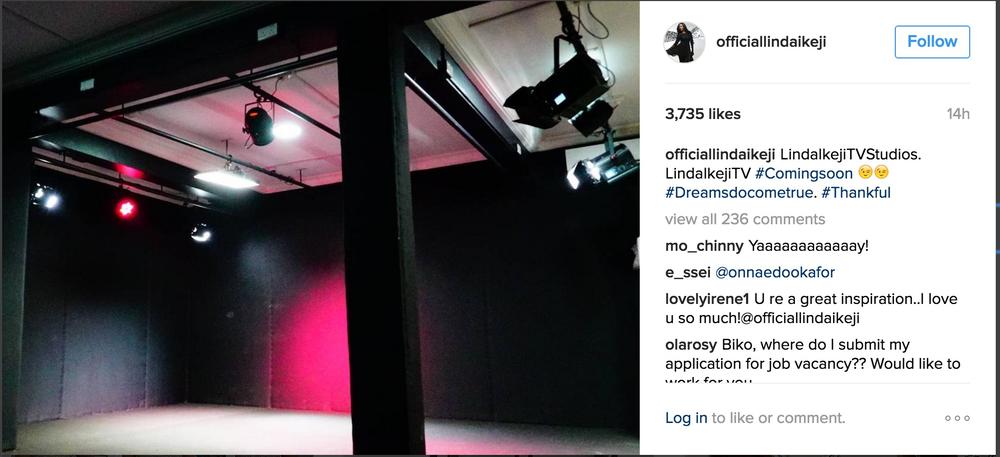 She captioned one of the photos, "6 years ago, I shut down my office, packed my stuff and went home because I could no longer afford rent. Look at me now."
In another, she wrote that "Dreams do come true".
Sunday Scoop reports that Linda Ikeji moved into a 22-room office at Lekki that costs N10 million per annum, and that she spent about N85 million for the remodeling and furnishing. According to reports, Linda Ikeji will hold various businesses in the partitioned offices and they include housing studio, editing suite, two lounges, VIP waiting room, radio booth, Linda Ikeji Music, LIS administrative office, bloggers' office and her own office.
Empire's Naomi Campbell & Jussie Smollett are on the Cover of Attitude Magazine
The Lucky Day 6 Winners are Here! Be 1 of 10 Nigerians to WIN N10,000 Each Day for the Next 30 Days in the EMILINKS N3,000,000 Giveaway! #MyDoorStory #Emilinks – Day 7
Living & Celebrating the African Dream! Catch all the Scoop on www.bellanaija.com Follow us Twitter: @bellanaija Facebook: @bellanaija Instagram: @bellanaijaonline
kilipot
August 14, 2016 at 11:54 am
Really nice. Congratulations. Make sure you employ people who know what journalism is all a out e.g. Ebonylife TV owned by Mo About.
The sky is your limit.
glow
August 14, 2016 at 11:57 am
Congratulations to her!
Ammagh
August 14, 2016 at 11:58 am
I'm inspired!
Bey
August 14, 2016 at 12:09 pm
No matter how much people try to hate on dis girl……………. O my she's soaring high.
Congratulation Linda
Seriously
August 14, 2016 at 7:41 pm
The truth of the matter is, nobody is hating on Linda Ikeji. Everything is not about hating. Damn, Nigerians see money and success, immediately forget about any form of truth and values. Linda's style of journalism sometimes offends people. She says and does things that hurts people. And she will continue to get called out on it. However, it doesn't stop her from soaring. The more controversial she gets, the more business opportunities for her. Her recent post of the gay couple(nigerian and a white man) who married in New York. The white guy tried to contact Linda to take his wedding post down but he said she never responded. She received high level of publicity based on that alone. I actually like her attitude but doesn't mean it will come with strong opinions and criticism.
Jade Edo babe
August 15, 2016 at 1:30 am
@seriously I will like your comment a million times if I can. You spoke my mind. The mindset of Nigerians is quite disturbing sometimes but it makes sense why the country is as messed up as it is.
It makes sense why people with money, power get away with so much. It makes sense why those shouting change will join in with the same wicked mentality when they get to the top.
Chai, naija people see money, their eyes shine big and forget about all the things they preach with no action to back it up.
Linda can become a billionaire tomorrow but still doesn't take away from her bad attitude sometimes and how she's hurt many along the way.
So, all of that couldn't be mentioned without putting in figures which is bullshit bcos the it doesn't match up.
Money doesn't make you, it's your character and what you stood for that you will be remembered for. Money is good, but your integrity matters more.
BlueEyed
August 15, 2016 at 5:29 pm
Thank you @seriously,
That gay couple story just disheartened me, at how people's privacy can be disrespected like this and little or nothing is done, I read the white husbands huffpost article and just reading it, my heart sank, you could feel his pain from his words. this is not a celebrity, this man is not in any way related to any political figure, just people who had something as precious as sharing their truth to the ones close to them, taken away from them.
Darius
August 14, 2016 at 12:09 pm
When I grow up I want to become a blogger.
Beyonce
August 15, 2016 at 9:18 pm
I want to be like Linda, haters can speak all the grammar they want.
Baby gurl
August 14, 2016 at 12:13 pm
Congrats Lindiwe!! Your success is truly a testimony. Haters gon' hate Linda gon' glo! God bless you and may our time come too. It is turn by turn God is not asleep and to anyone reading this whatever your definition of success is may you realise it in God's time IJN Amen!
xplorenollywood.com
August 14, 2016 at 12:26 pm
Congratulations, hiring good people and having a sustainable business module is the way to go!
UNCLE GWE GWE GWE
August 14, 2016 at 12:28 pm
This babe is a true blessing. God continue to bless you.
nene+
August 14, 2016 at 12:43 pm
Congrats Linda! You are such an inspiration!
anonymous
August 14, 2016 at 12:55 pm
Congratulations Linda! So inspiring.
FasholasLover
August 14, 2016 at 1:05 pm
Linda is doing well in her chosen career. I hope she puts a proper org' structure in place. I also hope she will get help from the right chanel to manage her SR. The girl is doing much more than she gets credit for. More grease to ur elbow Linda. Thx BN for being this large hearted. The sky is big enough!
Fashionista
August 15, 2016 at 12:39 am
I agree, the girl try Abeg! More grease to your elbow Linda. Well done.
Flo
August 14, 2016 at 1:07 pm
Woman fix your damn blog. Expanding your office while your blog is deteriorating. I read a story and swipe back to main menu and it takes me to an old a** page. Hiss.
James
August 15, 2016 at 8:31 am
I thought I was the only one that noticed the blog needs a makeover. While I wish her luck in her new businesses, I feel she's taken on too much all at once. Fix the blog first, which is the goose that lays the golden egg. Then get the right people to help you manage it before venturing into something else.
And I would advice start with one additional business if you must. When it is successful, then you can venture into another.
Just because she has the resources to throw at the businesses doesn't mean they will be successful.
Beyonce
August 15, 2016 at 9:22 pm
Go and open your own and make over and over hater.
Congrats Linda.
Nv
August 14, 2016 at 1:20 pm
Wow. I have to say am impressed! I didn't know she was that successful. Props to her for making moves to legitimizing her buisiness.
Bimpe
August 14, 2016 at 1:56 pm
Damn Linda ??????
Carina
August 14, 2016 at 2:00 pm
When God says yes, no man can say no. Linda thinks big and God answers her prayers. He will answer mine too!! Congratulations to her.
ckjacob.com
Damithebeefer
August 14, 2016 at 2:04 pm
Good for u girl.
Great Lady
August 14, 2016 at 2:35 pm
Correct girl. Congratulations
Memoirsofagreatlady.com
Derin87
August 14, 2016 at 2:36 pm
Good for her. Just read her 'apology' on the Save Mayowa story, and she is vile!!!! All she did was make excuses and justify herself, I'm so mad right now
Ekene
August 14, 2016 at 2:52 pm
I hope someone is close to take you to Yaba left
Derin87
August 14, 2016 at 3:24 pm
lol…who hurt you?
osa
August 14, 2016 at 5:11 pm
Like she always does. She just cant stand the fact that she is hated more and more by the minute. She is looking for every way to be loved by the world after all her sick stories and vileness.
Btw congrats on her new office structure. She seems to be putting her money
Oh lala
August 15, 2016 at 9:25 pm
Cry me a river, why not congratulate and walk.
jojo
August 14, 2016 at 5:48 pm
you are mad right now? please enter the nearest market,u hear? so that your madness can be permanent.keep running mad while linda keeps winning.
ME
August 14, 2016 at 2:43 pm
I had no idea that blogging pays that much. N85million on renovation of the office? Hmmm. Where be my laptop and camera? A-blogging we shall go
Antoinette
August 14, 2016 at 2:46 pm
She makes too much noise though and everything she does always has a money undertone. Is it because she was poor or struggling previously? I don't see Mo Abudu or Uche Pedro or Kunbi or TY Bello make a hell of noise like this. It's like she's angry with someone. Her pride and attitude just puts me off and takes away from the feat. I hope she structures her company or organisation or business properly. Im not hating at all. No nèed to, whether shes a pauper or billionaire does nothing for me and impacts my life in no way. Goodluck to her
Dtt
August 14, 2016 at 3:22 pm
They are not Linda, please free her. All your comments have Jealous undertones
Anonymous
August 14, 2016 at 3:52 pm
Well they are different people, and you sound jealous as hell.
osa
August 14, 2016 at 5:14 pm
True. Every single thing she does has an undertone of "plenty money it took".
Nothing noble about her. Not hating either she just tries too hard .
Lola
August 14, 2016 at 6:30 pm
You are hating already with your comment. Celebrate God's goddess in other people's live and it shall be well with you!
lacey
August 15, 2016 at 12:35 am
@Lola!God gives power to create wealth!so also there is money from mammon!satan himself!according to TD Jakes ,deceitfulness of riches!Mark4:19!No need to call anybody hater!nobody is hating on anybody!There is a peace that passes every understanding!Everybody can't be carried away by money!People still value ethics and integrity and a good name is always better than riches Prov22:1!
Peaches77
August 15, 2016 at 2:04 pm
Is this observation balanced now? Even though you may not agree with her and her many mistakes, she has done a lot of good for many people including. In fact from the nascent years of her blog, she was know for her charity. Nothing wrong with giving her credit in those areas.
osa
August 15, 2016 at 4:43 pm
Like the pharasees who would give just to let the world know that they were charitable. Her show off is why i actually cant stand her. Yes i cant. QBoth the quoran and bible frown at it. Even as subtly as she does.
Her entire family not any different. Why post the value of clothes you wear on a daily basis to an audience you know cannot even afford a tenth of these vain things? Then pretend to be encouraging them towards achivibg their goals
youmustreadmycomment
August 14, 2016 at 3:39 pm
@Derin87 Keep being mad o. Because she even apologised. And hope you saw the part that said the sick girl has been taken to South Africa. Is South Africa same as U.S.A or UAE. If they use that money for any other purpose other than treating the sick girl ehn…them go choke!
@Antoinette you talk true sha…too much noise and bragging. I hope the investments pays off for her.
osa
August 14, 2016 at 5:55 pm
My dear she always apologizes for her recurrent stupidity and show of useless money. I bet u it will only take 5 minutes before she gets on your ***ts again
Meg
August 15, 2016 at 11:57 pm
Hater
Weezy
August 14, 2016 at 3:40 pm
I just realized something about Nigerians. We believe money is blessing. And in our irrationality, "blessing" means Loved by God.
It does not matter how despicable, heartless and tawdry Linda Ikeji is, as long as she makes money, Nigerians will praise her. It does not matter that she ruins people S lives and lacks basic ethics (see what she did to that gay couple recently). All she has to do is post a few photos of luxury and plenty of empty vessels will say congratulations, I want to be like you. It is sickening.
And later the same people will be complaining about corruption and theft in our national leadership.
Ada Nnewi
August 14, 2016 at 5:07 pm
Chop Knuckle!!!
osa
August 14, 2016 at 5:16 pm
Fact. The fact that a person is rich doesnt mean God is pleased with them
Ekene
August 14, 2016 at 5:21 pm
Biko, if Linda is setting up these ventures; media outfits, and don't talk about , how will you know they exist. She needs all the publicity she can get . These are viewers/listners/ readers venture. Massive publicity of all sorts is needed to get audience
Idomagirl
August 14, 2016 at 6:28 pm
Lmao. Don't you know that Nigerians worship money?
jojo
August 14, 2016 at 6:39 pm
Please tell me what Linda did to the gay couple. i read that post.all she did was to post theor wedding pictures and she ruined their lives?
Did she curse them out in that post? no.is she responsible for the hate comments that came from nigerians? no.did she give out the couple's phone numbers to nigerians to call the couple and curse them out? no. linda is a blogger,i repeat a blogger. and that is what she did. she blogged about a nigerian man marrying a man. free her,please.
and about money and blessing,you can go ahead and try poverty,you hear? when you have done that come back and tell us from your experience which of the two is a blessing.
hate everwhere,jealousy everywhere. after they will shout am not hating.seriously?
People people
August 14, 2016 at 7:48 pm
She violated their privacy. They are not celebrities so she had no right to go their Facebook pages to post those pictures without their permission . Also she did not take down the story despite the couple reaching out to her so that is what is wrong with what she did. And oh please we all know she posted that with the intention of having her illiterate blog readers attack the couple. Now she has purposely endangered that man's life. So since you can't grasp how disastrous her action was, I hope this helps you understand.
honeymix….
August 14, 2016 at 8:44 pm
I love you already for this.
honeymix….
August 14, 2016 at 8:47 pm
@ Weezy
Jaygirl
August 15, 2016 at 12:41 am
Thanks for this.
sharon
August 15, 2016 at 2:15 am
You're a darling for this comment!!
Tunmi
August 15, 2016 at 3:58 am
Well of you're going to call out Linda, then do call out BN as well. Otherwise this selective analysis is BS
Taiwo
August 15, 2016 at 10:48 am
A Gazillion likes for this comment!
Becca
August 15, 2016 at 12:16 pm
Wish I could love your comment a million times
ATL's finest
August 15, 2016 at 2:54 pm
@ Weezy!!!! Just come marry me if U are a dude ???Oh my bad I'm taken :).. God bless U for this comments. The rate at which some Nigerians worship money is ridiculous. I mean U can't state your true opinions without someone saying you are hating. What are we hating on exactly??? The last time I checked, no matter how rich u are & u can't humble yourself, that's waste of sexiness to me. There's nothing attractive about that life style. Been humble goes a long way & I'd rather work hard & let my success speak for itself. Like me, I DON'T care who U are, what U have, where u have been as long as U ain't my creator & my parents everything else is trash. I don't worship money/celebs, I'm not running 10miles just to take a pix with U, I'm not drooling of your houses or cars ( that's a necessity & not a luxury ). Of what use is this when u can stop bragging about it? But u can't bring yourself so low to apologize for those u have hurt smh. Well Congrats but honey be careful cuz those you met running upstairs might be the same folks u will meet running downstairs.
P.S. ain't NOT HATING, I'm not a fan, never have probably never will. I don't visit her blog but opinion is like a**holes & I've got one. Y'all can attack me all U want, it doesn't change the fact that I'm allowed to voice my opinion. #FREEDOMofSPEECH#.
osa
August 15, 2016 at 4:53 pm
You sound like my siamese brain twin.??? Lol
My dear chop knuckle. Only wealth worshipping illiterates consider her an inspiration. I always say she was just plain lucky.
Notice how "eyan gidi" no dey associate with her
Hadiza
August 15, 2016 at 10:31 pm
Pls what ur address can I send kisses to you pls , u speak my mind for days … This has always being my stand with Linda n her family
Mimi
August 16, 2016 at 12:04 am
Did she steal? She's hard working and her hard work pays. I hope you don't eat yourself up, when God's hand is upon you, you'll know that you're blessed. Linda is blessed take it or leave it. God doesn't choose to prosper or bless the most righteous person, but who he feels like blessing, he blesses
@ MCcartney
August 14, 2016 at 3:44 pm
Linda this is my first time posting a comment on your blog. I would really love to work with you probably as a presenter. I studied mass communication and also have a Msc in mass communication. Here's my no 08189225497. I look forward to receiving a message from you.
Ekene
August 14, 2016 at 5:18 pm
Obviously on the wrong blog. Lol
Greenberg
August 14, 2016 at 11:08 pm
@Mccartney, it appears to me that you need a mini mental state examination (MMSE) abi na CT scan of brain wey you need. Grow some cerebrum , bro, and if you are cognitively impaired, this ain't LIB!
NoNo
August 15, 2016 at 12:53 pm
Oga Mccartney, I am ashamed you said you studied Mass Comm and you clearly cannot read! It will be a shame if Linda hired you, but then again, she just might, after all, she is not any better.
ATL's finest
August 15, 2016 at 3:02 pm
@ McCartney Haba????????? why U F*up like this????? This isn't LIB jor & did u take out time to read it first before posting it??? Track Linda on Social media & state your mind. That might help U but hey, Goodlcuk on that…
bush man
August 14, 2016 at 4:25 pm
Mimosa and Laura-.motherfucking lucky…Happy for your family!!!!
Lulu
August 14, 2016 at 4:40 pm
Linda big congrats!!!i do quiet agree that Linda has an undertone of pride and show off in her so -called achievements.linda if your ready this,please whatever bitterness hidden down should be let out,because all I sense is an aura of insecurity about self and wanting to prove to someone something in vengeance and keeping up appearances.True happiness isn't this expensive dear.Best of luck
Bowl
August 14, 2016 at 5:22 pm
one day God wil bless Linda to the tune of shutting your dirty mouths permanently. Jealous much.
osa
August 14, 2016 at 5:57 pm
Linda welcome to bn
Bowl
August 14, 2016 at 5:24 pm
Again I see Linda rising so high, you will fear to call her name. Hopeless beggarly class acts !
Beautiful
August 14, 2016 at 5:51 pm
My dear Linda big congrats to you jare the sky is your launch pad. Never you mind about those talking trash about you.. they are bitter and envious of your success … Go go Linda
Mimi
August 16, 2016 at 12:10 am
The wailing women are wailing again. They can never see anything good in any one succeeding. Linda don't look at these negative people, else they will distract you. They're full of bitterness.
Fifi
August 14, 2016 at 6:04 pm
I dont understand pay 10million rent and furnish with 85 million, i am sure they are plenty properties in lekki she could hve bought with 95 million, anyway let me be unlooking
Left Hand Bionic
August 15, 2016 at 9:31 am
Doesn't make sense right?
nebon
August 14, 2016 at 6:25 pm
just look at nigerians……………what a shame…….all i could read is jealousy….jealousy….jealousy………i even read somebody mentioning coruption……..then another is saying what bitterness she has in her heart….then another is saying he or she could see pride in the undertone……..some are even suggesting that you have destroyed life….my God…….
linda…i know that you may not have time reading all these……but i have no doubt that you are a woman with great wisdom……….you know the environment where you are coming from……….those those that deserve your time …financial blessings please show them kindness……but there are those around you……that may not deserve your kindness……please be hard to them……..most people in nigeria are bitter and full of jealousy………most rich people in nigeria know this and that is why they have lived long……..
i have been reading your blog for the past 7yrs……..and i do not know of any young woman that africans should look up to as an inspiration in the past ten years than you……i mean mention one woman……in the whole of africa……there is mo abudu…..chimamanda adichie…..uche pedro and many more…..but you are in your own class and your story is different……..most of the other ladies do not have your story….but yours is touchy…..if you were an american …you would have been celebrated……but no……you are living in nigeria and you are nigerian……..
but hey linda…keep doing your thing……there are some of us who have stepped up their game because of you……..i know that this is only the begging of what is to come from you…..
nnenne
August 14, 2016 at 7:05 pm
Congratulations woman!
You just confirmed my argument yesterday that today's Nigerian woman are capable of achieving whatever goals they set, for themselves.
Next time, we read of a successful Nigerian women., let's stop searching for the man aiding her!
Be rest assured that half of my commute time will be spent on your site, blogging.
You earned my support.
I love success stories!
Ekene
August 14, 2016 at 7:20 pm
Chai. Look at someone , a human being wishing a fellow, she has never seen down fall .
Tufiakwa , may I never meet your type. The prayer you prayed for someone is exactly what you get.
jan
August 15, 2016 at 7:52 am
amen..what ever they wish linda goes back to them…chai i fear this felicia o kai kai.
nekky
August 14, 2016 at 7:36 pm
oh sweety,take some honey.no not some honey, take plenty honey.add sugar too.will that do? no it wnt cos ur case is advanced.add orange juice plus pineapple juice plus what again? emm saccharine.lmao
Warmsoul
August 14, 2016 at 7:58 pm
You are a very wicked idiot wishing another person evil because of envy, you will never even see grace in your miserable life somersaulting from grass to grass will be your portion. Tufiakwaaaa evil soul!!!'
Nneka
August 14, 2016 at 8:27 pm
Bitter wicked soul you've got. May you receive a million folds what you wished Linda. Jezebel like you. Just look at you!!
Common sense
August 14, 2016 at 8:29 pm
85 million naira renovating a rented property? That makes no sense at all.
Josephine
August 14, 2016 at 8:45 pm
Fantastic office. Just wow.
Nakoms
August 14, 2016 at 8:55 pm
Bye Jove! why so much bitterness and hatred for a fellow human being why wish her evil!
I send thoughts of love to linda for God to protect her and give her wisdom to be a light to other people. Even those who wish her harm
Humility
August 14, 2016 at 9:33 pm
So there can't be a post abut linda without brags about specifics? See figures flying here and there…na wa oh! I'm no hater for those that would rent seats under this comment, I'm only happy for her success and that's all. We all know success is very "visual" stop giving us audios of monies spent and all…. learn to be humble…you are rich so you can afford personal development programs to help your attitude and perspectives. Stop this mediocre mindset of "my money must be heard". Congrats on your new venture, just empower yourself more.
Humility
August 14, 2016 at 9:35 pm
*about
Ade
August 14, 2016 at 9:47 pm
This lady typifies the decadence and rot in moral values and ethics that has plagued Nigeria. The notion that – you can do anything to make money and once you attain "rich" status, you are justified – is disturbing. There are a lot of under 35 achievers who have built very successful businesses quietly, employed many Nigerians and are still very modest. This idea of brandishing "my beautiful office" which looks very classless by the way, my Hermes bag, my banana island house etc is very very tacky. You inspire people through the amount of lives you have touched and not the amount of money you have spent. Nigerians, we are better than this!
Taiwo
August 15, 2016 at 10:52 am
Couldn't have said it better. Let's hope this latest venture provides jobs for those who need it
NoNo
August 15, 2016 at 12:49 pm
Ade, I absolutely agree with you.
Peaches77
August 15, 2016 at 2:14 pm
You surely are better than this thing you typed here. Do you know how many lives she has touched? This is just a pretense to sound wise and objective.
Majestic
August 14, 2016 at 10:12 pm
Linda congrats. May your success beat the expectations of men. So many hateful comments here. O ne wute gi? Please manage this 100kg bag of dangote sugar.
good girl
August 14, 2016 at 10:24 pm
was it necessary for us to know the actual rent she pays and the amount used on renovation by now after the banana house we get she is loaded……how about just saying here is my new office complex or empire…and we will still ooh and aah at it..Nigerians make me laugh sha
Err
August 14, 2016 at 10:32 pm
She inspires only are types,the ojuorolaris,And association. Of freebies
Oversabi
August 14, 2016 at 11:43 pm
Linda, I am one of the commenters on your blog. Glad you are transitioning to journalism. Big move that will come with meaningful investment in resources – intellect, not just bodies. Please wow me with a million naira platform that allows for the kind of interactions your users crave. Make your news organization more than TMZ. Make it the source for the masses. Use it to send forth the voice of the masses.
Nonye tar
August 15, 2016 at 2:51 am
Congratulations to Linda! However one thing I can't wrap my head around is why you would pay 10 million for rent and then spend 85 million to renovate a property that isn't yours…
mrs chidukane
August 15, 2016 at 9:40 am
Sorry if I'm being negative but this feels like she's biting off more than she can chew. LIB is not known for great content. Will her tv and radio be different? You need a lot of content to thrive in these new ventures. Hope she did her research and has the right staff. It's not all about funding. Good luck to her though.
Bella
August 15, 2016 at 10:46 am
Congratulations Linda. Please fix and upgrade your blog o.. Remember that being a blogger also means that you have a certain responsibility to your readers and society in general. Try and make positive and remember to give back. thanks, bye
Tchy
August 15, 2016 at 11:36 am
So many people complaining about her throwing figures about and all. The problem here is comprehension of English language. If you read this without bile in your heart, you'll see where it said "Sunday scoop reports.." and "According to reports..". Nowhere did it state that she said or posted anything. Let's learn to appreciate good things that happen to others even when the person isn't perfect. Let's not cover jealousy or envy with hateful statements.
Humility
August 15, 2016 at 1:05 pm
If you don't have a problem with understanding either you'd know she gave out the scoop also. With her history of dishing out figures, it's obvious that she's is the reporter of the figures! Totally unneccesary….
Onyinye
August 18, 2016 at 11:36 am
Thanks a lot! Most of this people that form class cannot stand a poor person talkless if helping them but are quick to shout humble. I follow linda on instagram and there was place she mentioned the price. I'm sure people might ve investigated the cost of the property but hey, but of this people here are full of hate and will never see that. She didnt even put this in her blog but people are already hating. I like that u people can stand her progress but u dont ve a choice
Adio_Braimoh
August 15, 2016 at 11:53 am
@Linlin, I felicitate with you for the success attribute in the media industry.
M
August 15, 2016 at 1:27 pm
Kai ,Nigerians!!!so much bile, I am so scared o,
Peaches77
August 15, 2016 at 2:23 pm
Congratulations Linda. You continue to impress me your dedication to being successful. Even though i am confident in your ability to put in the work to ensure success in your new venture, may luck also shine on you.
Unlike some of us who like the simple life and quiet victories, I mostly believe that your heart is in a good place despite some of "the" shortcomings. May you keep learning and growing!
Peaches77
August 15, 2016 at 2:24 pm
Congratulations Linda. You continue to impress me your dedication to being successful. Even though i am confident in your ability to put in the work to ensure success in your new venture, may luck also shine on you.
Though some of us prefer the simple life and quiet victories, I mostly believe that your heart is in a good place despite some of "the" shortcomings. May you keep learning and growing!
artklub
August 15, 2016 at 8:51 pm
haba, her office is much better looking than her blog. so i wonder if her tv show/radio is going to be rundown looking too. i am a lib reader btw. it just seems like she managed to make cyberspace look like naija….no electricity, no ac, no running water…..thats how it feels on linda ikeji blog, but carry go jare….lol.
Your email address will not be published. Required fields are marked *







This site uses Akismet to reduce spam. Learn how your comment data is processed.
Get Ready for the 2021 Ghana Bloggers Summit Happening Next Month
Sandra Ikeji Samuel & Hubby Arinze welcome Baby Number 2
Stars, Tech & Selfies! All About the Phantom X Launch in Lagos with 2Baba, Linda Ikeji, Mercy Johnson & More
© 2021 BellaNaija. All rights reserved